MySac is the brand name of bags for cleaning which answers all your waste collection needs.  Keeping the waste bin of your home, condominium or office clean is much easier with MySac.
The MySac bag line is studied ad hoc for every specific use, and the bags are equipped with special no-drip systems; they are available in all sizes, and with different types of close, thickness, colour and aroma.
The closing systems supplied by the company are the most developed on the market and they have a simple bag removal and closing system.
MySac gives you the chance to choose the best.
Discover our lines:
SERVICE, QUALITY AND CONVENIENCE, PET AND PROFESSIONAL
"Bags with a green heart"
Choosing MySac helps reduce the environmental impact and contributes to the development of virtuous production-consumption-elimination systems. The bags used for collecting organic waste are made exclusively from biopolymers, which guarantee that the film is completely biodegradable and compostable according to the UNI EN standard.
Rubbish bags for unsorted collection and non-organic material have "Plastica Seconda Vita" (Second Life Plastic) certification. The use of recycled material, suitably selected by type of recycling and origin, is therefore guaranteed.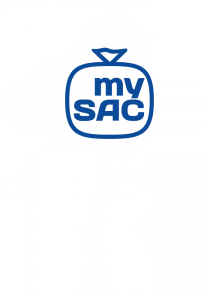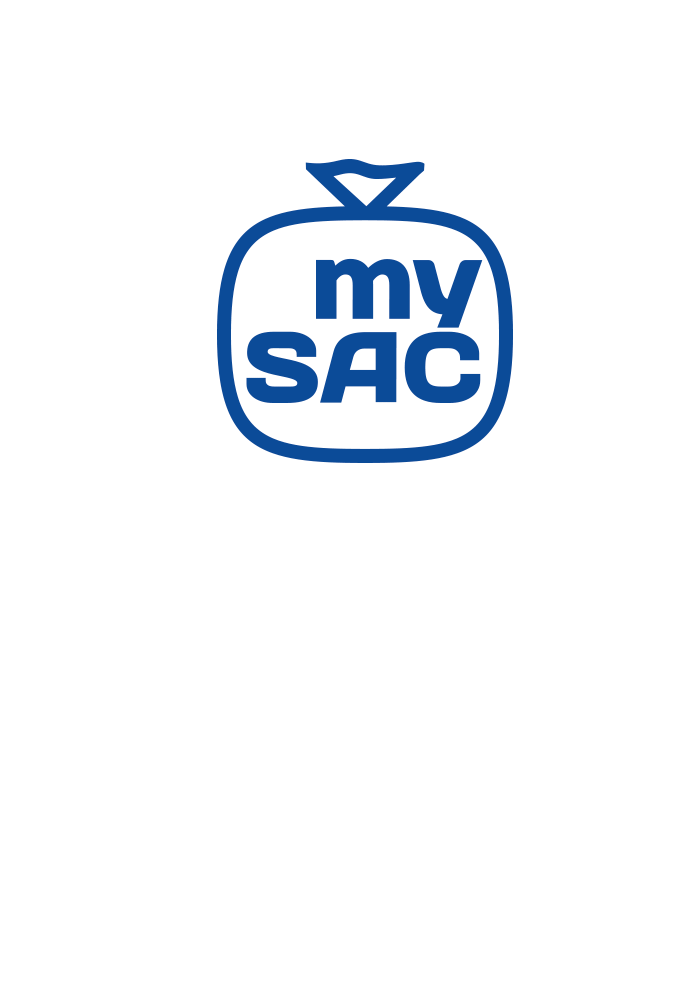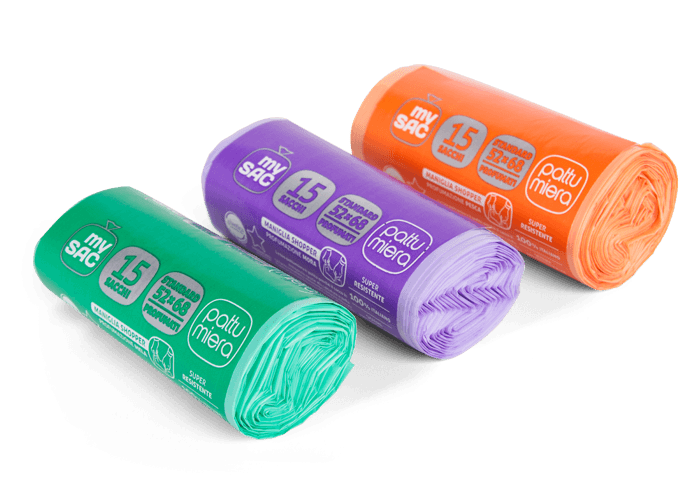 The best resistance possible


MySac has created its most resistant bags for cleaning condominiums and companies.  Available  for Traditional collection, the bags are made of  multi-layered PE-LD, which is impossible to break!
The Service line offers:
• the best possible resistance
• rubbish bin and dustbin sizes
• 2 closing systems
• different colours
Keep your rubbish bin and dustbin cleaner thanks to:
a no-drip sealing system at the bottom, and a more aromatic bag
SERVICE LINE
PDF DOWNLOAD


The MySac Quality line offers a range with products that vary in size, bottom sealing and close types.
Available in two variants: for Traditional collection (blue PE-LD bag) and separate collection, dry (clear bag in several colours) and organic (Biopolymer).
The Quality line offers:
– a full range of sizes
– greater resistance and more elasticity
– 4 different closing systems
– various colours
Keep your dustbin cleaner thanks to:
– 2 different no-drip systems (side and star seals)
– aromatic bags
QUALITY LINE
PDF DOWNLOAD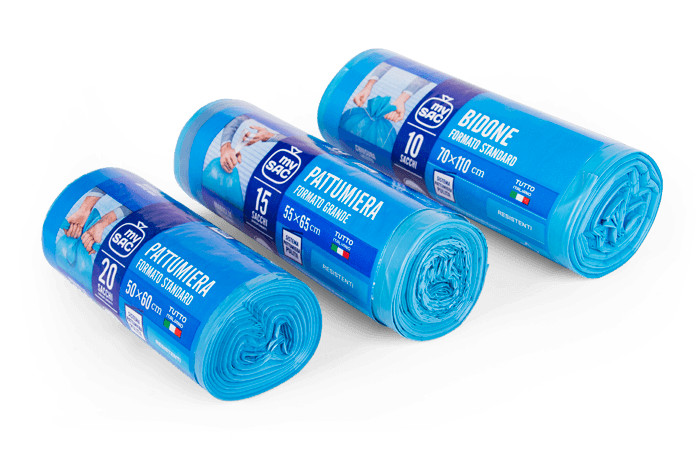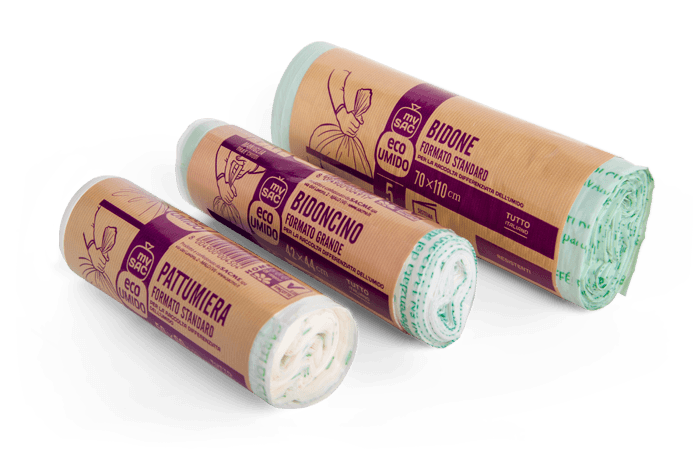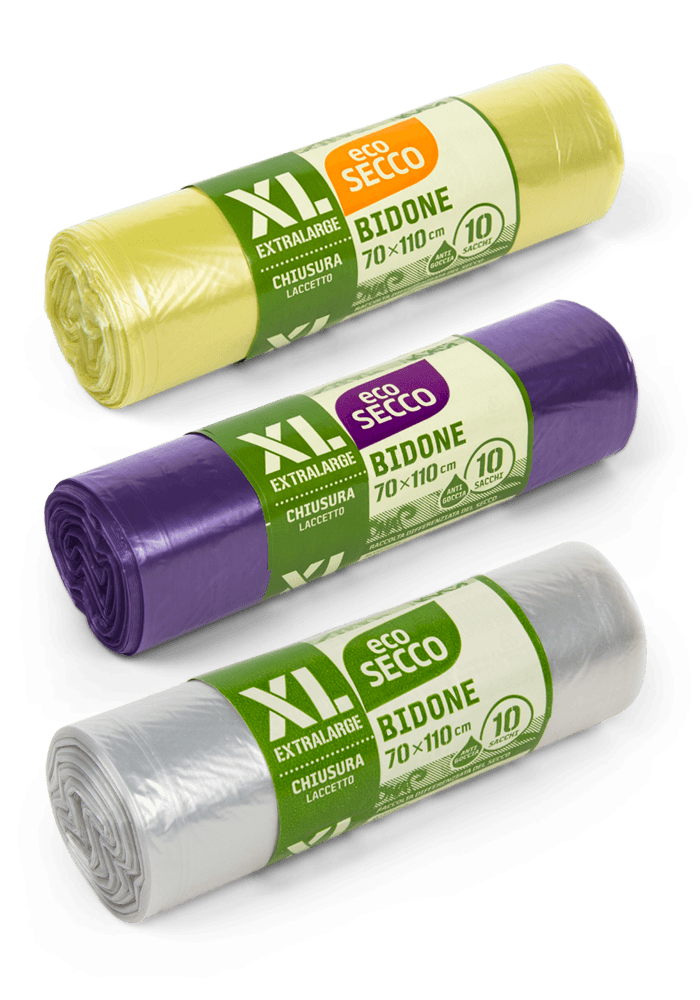 The MySac Convenience line unites everything that is essential for a waste collection bag: practicality and convenience!
This line, which is characterised by packaging that is immediately recognizable and easy to read, has two variants:  for Traditional collection (PE-HD and PE-LD) and for Differential collection, dry and organic (Biopolymer).
The Convenience line offers:
dustbin, bin and small bin sizes
4 different closing systems
Keep your dustbin cleaner thanks to:
2 different no-drip systems (side and star seals)
CONVENIENCE LINE
PDF DOWNLOAD

The MySac Professional Line is dedicated to HORECA sector professionals:
Hotels
Restaurants
Coffee shops
Cleaning companies
Cash & Carries
The best for our four-legged friends
Miao! The bag for cat litter:
• is easy to use and transport, thanks to its practical pull and close handle
• has a static electricity discharger to prevent disturbing your cat
• has a pleasant aroma of vanilla
Woof! When you go walking with your dog, these useful bags are perfect for collecting dog poop.  And remember: don't leave dog poop on pavements
• easy to close with a T-Shirt handle
• large quantities: 50 bags in each roll
This is the perfect solution for keeping your home, and also pavements, clean.  Your pets will thank you!
PET LINE
PDF DOWNLOAD